OUR PACKAGING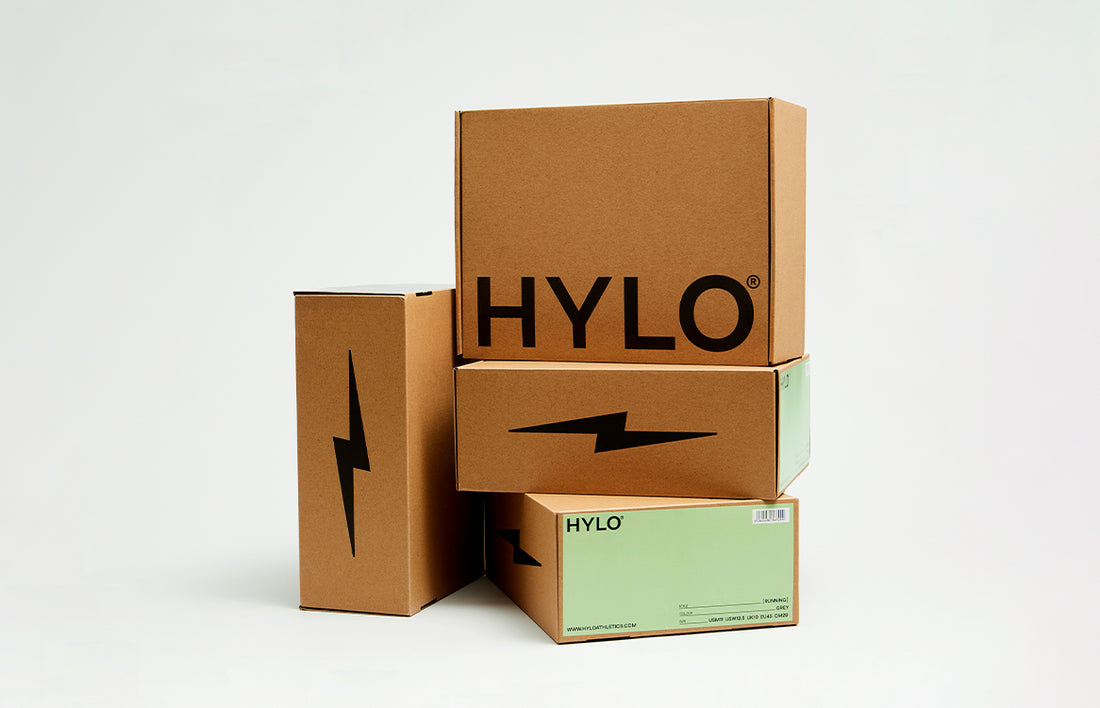 BY Ben Hooke
-
The packaging of our products, more often than not, ends up in landfill.
- Plastic, one of the most common single use packaging materials, is being produced faster than we can recycle it.
- Our innovation is reducing the use of plastic.- Our shoebox requires no additional packaging en route to the customer.- It also enables our community to easily recycle their shoes at end of life.
The problem
Nearly everything we buy nowadays comes in some form of packaging. Be it a shoe box, plastic bag, paper bags or any other form of packaging - most of them have one thing in common. They are single use. 

The issue with this is that there is no such thing as throwing something away. That single-use packaging will end up somewhere and the likelihood is that somewhere will be landfill, an incinerator or in nature. In order to not have to deal with all the waste we produce, a lot of countries in the global north export their waste (not just packaging) to other countries. The UK alone exports around 60% of the over 2.5 million tonnes of plastic packaging waste it creates. A practice that has been coined as waste colonialism, affecting human health and the local ecosystems. Read more about it here. 
Besides being landfilled or discarded in nature, some waste can also be recycled. Whilst recycling is an important solution, it is not done at a big enough scale and currently does not reduce the extraction of virgin materials. 
Plastic, one of the most common single-use packaging materials, is being produced faster than we can recycle it. Only
9% off all the plastic ever produced has been recycled
. At the same time, the production of plastic has doubled in the past two decades. 
Unfortunately we do still need packaging. We need it in order to keep our products intact and clean during their journey to our customers. 
Our solutions
The good news is that there are a lot of companies that are working hard to innovate in this space and make better packaging. 
What is our packaging made out of?
FOOTWEAR
The design of our FSC-mix certified cardboard shoebox means no additional packaging is required in delivery from our warehouse to your door. The shoebox has been engineered to be resealable. Allowing you to reuse it and even send back your old trainers (
any brand
) back to us for recycling. Click
here
to access our take back portal.  
APPAREL 
The use of plastic packaging in fashion is still incredibly prevalent, specifically in apparel. So-called poly bags are quite useful. They are cheap, transparent, and water resistant. Finding an alternative that covers all of those criteria is no easy task.         
As part of our first venture into the world of apparel we decided to do things a little differently. We partnered with Invisible Packaging and used their unique bags. This bag is water-soluble (in hot water above 80℃), compostable, biodegradable and proven to be non-toxic for the environment. 
What's next? 
As with most things, we are always looking to improve our packaging where possible. That means reassessing materials and how we can use them more efficiently. We've been doing some work in the background, keep an eye out for future launches and the packaging we will be using there.   
In the meantime, if you have any questions about our packaging or just want to say hi, email us on
aks.impact@hyloathletics.com