PLAY LIKE THE WORLD DEPENDS ON IT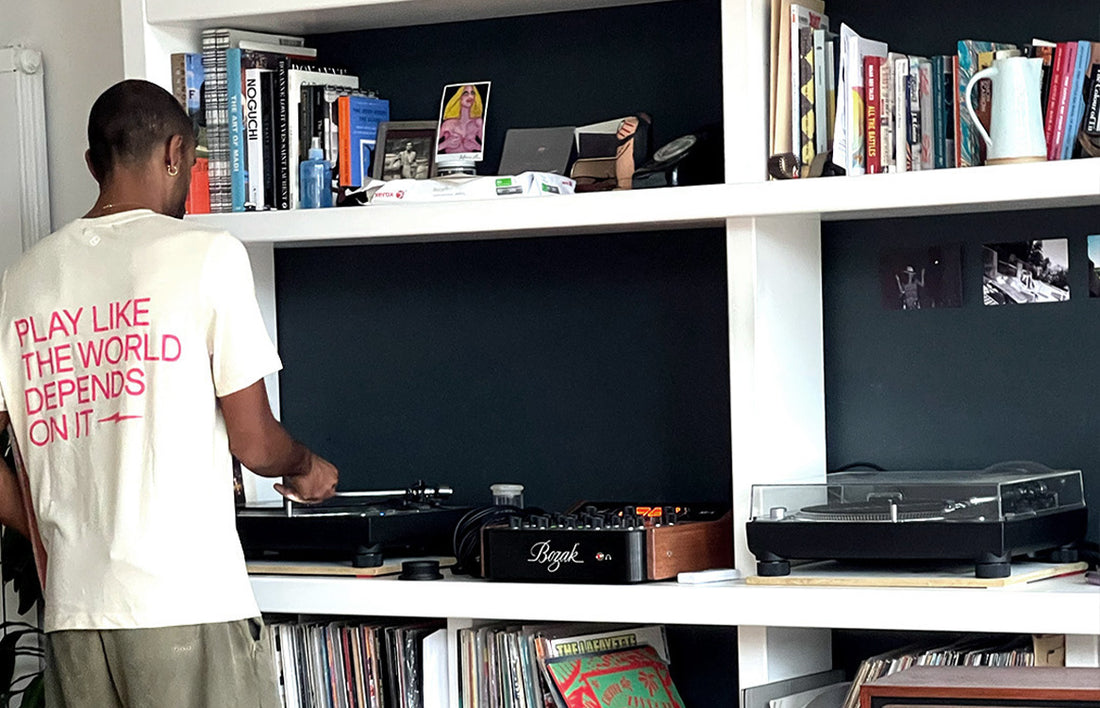 BY Ben Hooke
Architects designing ancient cathedrals and churches were creating arenas - creating echoes, frequencies fit for deity. Enabling choirs, organs and orchestras to use the symmetry, colour and acoustics to reflect the glory of God. To make it worthy.
These grand spaces were built for musicians to play like their lives depended on it - or their afterlives. The better the acoustics - the closer to heaven they got.
Shivaz Howard-Brown's focus is in keeping the music itself at the centre. Instead of intricately-designed bricks and mortar, he worships in watts and kilohertz.
To play like the world depends on it, for Shivaz, is to eek out every possible detail of sound quality from beautiful speakers. He refurbs and repairs speakers that have 'blown', giving whatever is played through them more life and renewed sound.  
For me, spirituality is music.
Your whole life can be punctuated by these moments where songs are timeless for you and describe those mental moments - moments where I've felt the most alive. That's why music is so sacred and these speakers play the music better.
"I think when you have a sentimentality towards an object you often find the best way to use it. That's what I do."
Shivaz's musical lens on spirituality, and the church collide when we talk about his favourite events in his home city of London.
"An event called Church of Sound. Up in St. James' Way - it's like the sickest live jazz band. Set in a church. They have a system in a mono-set up in a church - the acoustics of a church are amazing. Very reflective so that with an organ and a choir it sounds biblical.
"To get a band sounding good in a church is hard so what they did was have one single, mono, omni-directional stack that plays everything from a central place. It creates a really good sound."
In lockdown, like many, his habits and hobbies shifted. He got on the bike and his brand was born - in the space of a month.
Friendly Pressure (his brand) just came from boredom really.
Last year, over Christmas I was really bored - in that third lockdown. I built a bike after a couple of friends did the same and I was seeing a lot of prices of speakers come down in price at the time and I wanted a lot of them so I just said 'Fuck it, I'm going to buy them and do the same.'
"In my flat, by the end of January, I had a full flat of speakers. What should I do? I was still in my old job managing artists and I didn't want to do that any more. I just decided to take pictures of them.
"I restored quite a few of them. Found the parts, using some portals online that aggregate a lot of marketplaces across the world.
"I sell everything on instagram. I'll tease it, drop it and then they'll be sold in the day - a lot of them."
The speakers have stayed, and so has the cycling:
"Exercise is another high. Any addictions are often a result of trying to escape. Exercising - cycling, for me because of bad knees - it's a free high. Get anywhere. Long distances. You finish in a way better head space than when you started."
Shivaz was pictured in his Hackney flat wearing the limited edition Play like the world depends on it LegacyTech T-Shirt. Available now.