ONLY CONNECT - AN INTERVIEW WITH ARTIST BARRY REIGATE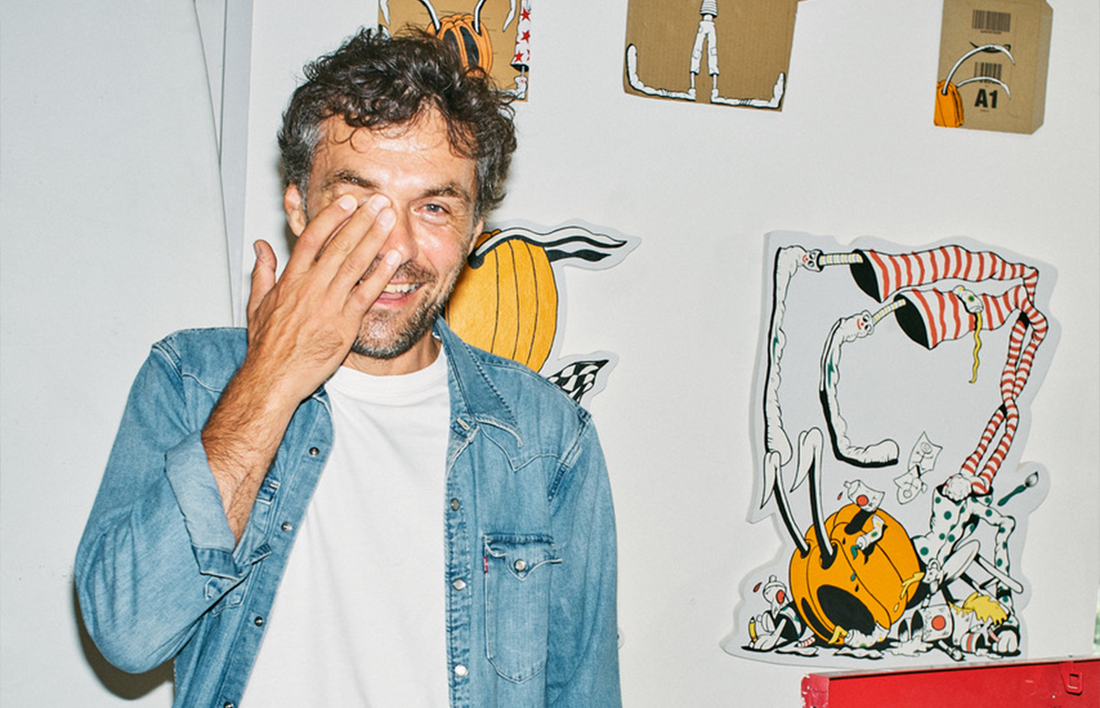 BY Francesca Goodwin
In a world where we are increasingly looking 'without' rather than 'within', Barry Reigate is channelling the power of self-reflection and vulnerability on a brave new creative path.
I caught up with him as he installed his new exhibition 'Shine' at the Bomb Factory Art Foundation's gallery space in Covent Garden, a show which finally gives Patrick, the lanky pumpkin-headed character at the centre of the show, the space to literally 'run towards life'
"It's the only thing I ever did; I was crap at everything else!"
Creativity, for Barry, starts with connection not communication, something that was clear from his first encounters with drawing when visiting his dad in prison when he was younger. 
"Looking back at it; he didn't really communicate. The only way he connected was via drawing and he used to draw cartoons. He'd make us postcards that we'd pick up when we visited. There was a sensitivity and enjoyment there."
Barry reflects that the problem with commercial art now is that communication can override connection due to the need to sell something. Connection, on the other hand, is about something that is greater than language.
"It makes me think of cave paintings where they sprayed handprints on the walls of the cave. Before the word, there was still this connection using the hand as a stencil. I started reading a lot about how these people would sometimes go for up to half a kilometre into the darkness of the cave and make paintings: there's something higher going on there, and I think we've lost some of that."
Barry's latest character, Patrick, is in fact one that has lived alongside him for years.
"It was an unconscious thing that I would do in the evenings to cheer me up instead of watching TV. It started off when my daughter was very young, and I would be looking after her – a week on and a week off. I'd draw or make her houses, using that time that I couldn't go out and meet my mates to be creative. I ended up building up a load of these cartoons; unconsciously, I realised I was drawing myself."
After fifteen years of Patrick being a doodle in the margins of his main art practice, Barry was put in touch with a writer who helped put words to the drawings, delving into his subconscious once a week to tease out the narratives beneath the lines on the page. Soon after, a buyer of his canvasses reached out because his daughter was studying Barry's work at school as an example of a playful approach to drawing. Seeing potential, he put Barry in touch with the director of Chicken Shed Theatre Company, Louise Perry.
It was with Louise at Chicken Shed that Barry began to explore how to bring Patrick to life, and the potential of using him as a vehicle to connect with young people about mental wellbeing.
"Patrick is about not fitting in: a big lanky-limbed being with a pumpkin head and rabbit ears who doesn't know who he is."
The narrative reflects a symbiotic relationship between Patrick and the girl who draws him. When she stops drawing to focus on academic performance at school, Patrick falls apart. Both the girl and Patrick are saved by the re-awakening of her imagination.
Barry links this to the real-world narrative around Patrick, believing that today's students are pushed along a pathway that puts the focus on results and doesn't leave time for creative expression. Couple this with fees that make a university education inaccessible to a broad demographic of people and an art degree is not a viable option for most.
"If I grew up where I grew up now; I wouldn't do art. It just wouldn't relate to me." 
It's a bleak thought since, as Barry reflects, society needs art more than ever. In a world where we see social media homogenising young people into prescriptive thought patterns and behaviours, art rather encourages the independence to think outside the box and the critical perspective to question the status quo.
So, is there hope?
"In a way, Patrick's is a story about hope. It's about self-love and believing in imagination and that you can make dreams come true." 
Barry is inspired in this respect by his mum, who wanted to become a stunt woman in the 60s and, as well as being a single parent bringing up her three children, earned a black belt in karate and, at forty-five, was regularly competing in fights.
"She had a mantra of, 'Don't let any f***ers tell you what you can't do!'"
And how does this relate to running? 
For Barry, running is about moving forwards.
"From the age of thirteen, I've always run. Along with drawing, running has always got me through difficult times. The way I see it, you have a choice to make: either you're going to run into life with abundance and joy, or you're going to run away from it."
It's a choice that he confronted earlier this year when, feeling like he had lost his sense of purpose, he went to India. There, beyond the noise of day to life, he took a long hard look at himself and decided that things needed to change. He quit drinking, took up meditation and realised that the drawings of Patrick needed to be shown to the world.
"It's not about changing in a moment. Real change resonates, like ripples in a lake. What was profound was that I said, 'If I don't show him (Patrick); I won't be free."
I reflect at this point that Barry is incredibly brave, exposing Patrick to the public eye for the purpose of helping others.
"I think everyone is lacking a purpose. Everyone is looking
without
, distracted from themselves by screens and media, rather than looking
within
. It's so heavy on young people now with comparison culture; I can see it with my fifteen-year-old son. It's all about what you're doing wrong; you're afraid to make mistakes."
At the boxing club that his brother owns, Barry sees people coming together outside of the divisive binaries so often played out in news headlines. In a way, it's a microcosm for what can be achieved through creativity, when we allow ourselves to be open and vulnerable. To this end, Barry hopes that Patrick will grow beyond the gallery show into films and workshops that will inspire children to turn what might be perceived as failures into assets. In Parick's world, anything is possible if you allow yourself the space to 'take a line and run with it'.
It's perhaps fitting that Barry's
collaboration
with Hylo came about over the course of a
24-hour run
. On the hour, every hour, for 24 hours, a group of people from very different backgrounds and walks of life ran 'one grateful mile' whilst reflecting on what movement and gratitude meant to them. 
It makes me think back to the beginning of our conversation and an eight-year-old Barry connecting with his dad through cartoons. We are all on a journey: sometimes we move forwards, sometimes we falter, sometimes we fall, but that's ok. It's not about the outcome, it's about the doing – the process.
'It's going to sound naff but it's about love. You can tell when things are done with love.'
Shine
is showing at
The Bomb Factory
, Covent Garden, 99-103 Long Acre WC2 9NR
Tuesday, 10 October 2023 to Sunday, 22 October 2023
Private View Opening: Tuesday, 10 October 2023 - 6:00pm
www.barryreigate.com
@barryreigate