HYLO'S MATERIAL PRINCIPLES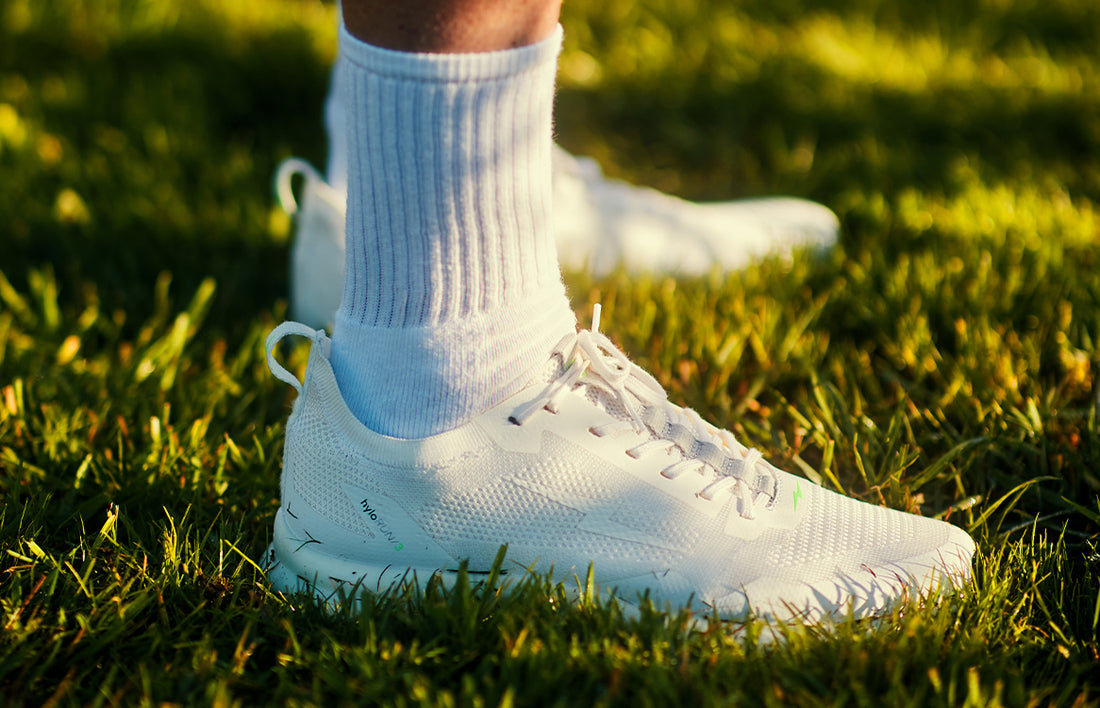 BY Ben Hooke
- Why do the materials used in sportswear matter? 
- What impact do they have on the planet? 
- hylo's mission is to eradicate fossil fuels from sportswear. 
- What are we doing to achieve that? 
- What makes a material good?
The problem we want to solve
The sportswear industry and hylo as a company has an enormous challenge to solve: footwear's footprint problem. 
Our global reliance on fossil fuels and finite material sources is
shocking
. Sneaker production is exceptionally carbon intensive,
accounting for an estimated 1.4% of the global greenhouse gas emissions
. Air travel is responsible for 2.5%.    
These materials, used en masse in sportswear, have extremely intensive production methods and also very limited end-of-life solutions - but they're cheap, scalable in production and hardwearing. Sportswear's quest for profit has come at a cost of its planet. We say no more. As far as we're concerned, fossil fuels' race is run. 
Our solutions
PRINCIPLE 1 - ZERO FOSSIL FUELS
The goal is to create a product without fossil fuels. Nature is our source of inspiration and innovation and we are accelerating the use of natural and bio-based materials over the use of fossil fuel derived ones. 
We are at the forefront of this race and we continue to work to eradicate the use of fossil fuels from the sportswear industry. 
PRINCIPLE 2 - USE THE BEST-IN-CLASS FOR PERFORMANCE AND PLANET 
What makes a material
good?
Firstly, its performance properties. Good quality materials increase the lifespan of your products, improve running performance and reduce the need to constantly buy new. 
Secondly, the materials we use need to reduce our impact. Good materials and good products, still have an impact, but don't hurt the earth they hit in the same way. We need to switch to lower impact materials in order to preserve the environment we run in because if earth hits a wall, so does sport.  This means materials that use less or no arable land and less-carbon intensive processes in production.
PRINCIPLE 3 - RUNNING IN CIRCLES
Great materials can be repaired, reused and recycled. Choosing materials for their circular attributes is key. We think ahead and include all life stages of a material and the product it will be used in. This includes future lives too. 
PRINCIPLE 4 - STAY CURIOUS
Curiosity is at the heart of our progress. We're finding new, innovative answers to huge, pressing questions. We keep asking questions. Innovation comes from questioning and daring - not from sticking to the status quo.
PRINCIPLE 5 - COMPROMISE
This is our least favourite principle. Ideally we would be able to make the best performing product with the least impactful bio based materials.
The reality is that we have to make compromises. We need our products to perform which means that we sometimes still have to use materials that we'd rather not use. At the end of the day, if the products don't perform or look good there won't be any demand for them.