HOW WE BUILT THE hylo RUN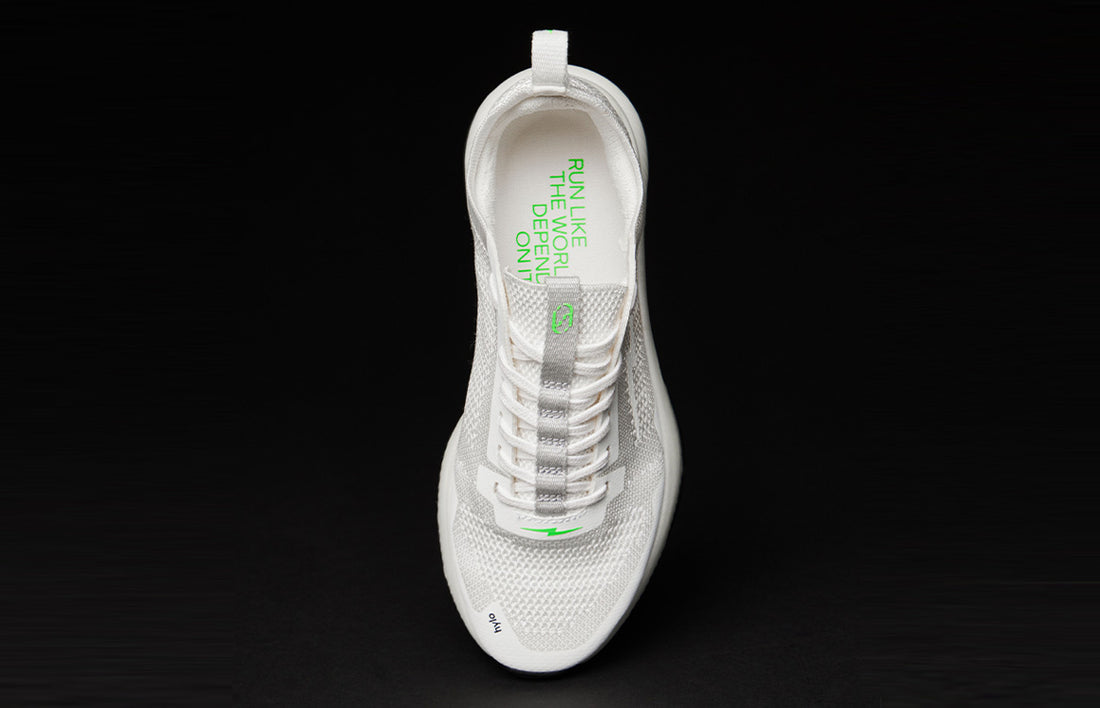 BY Elli Smith
The world doesn't need more shoes, it needs better ones.
This is a consistent mantra that we reflect upon when we are beginning to concept a new product.
For the hylo
RUN
, we took the learnings from our community and their feedback about the hylo
LIGHT
to create a performance running shoe that is comfortable, versatile and stable.
The hylo
RUN
took two and half years to develop and we started by designing a new pattern to overlay on the upper. The brief was to provide more dirt protection to the shoe supporting our Champions on those more rugged runs.
We also wanted to develop a new midsole which would not only propel the shoes performance into a new category but also take us closer to our vision of fossil fuel freedom. We managed to create a midsole with 50% bio-based content (derived from sugarcane) combined with PEBAX. Pebax is a performance leader in the midsole space -think of a Ferrari and that's what's on your feet! 
After finalising the look and feel we decided upon the materialisation, prioritising components that could offer the performance that we would expect but also choosing materials that were derived from renewables where possible. The final renewable content in the hylo
RUN
is 60.03% and the race to fossil fuel freedom is still on.
The hylo
RUN
is then sampled and lab-tested at component and build level - meaning each component is fit for purpose. The lab feeds back on whether each component, and the entire product, has passed through enough cycles of abrasion and various other litmus tests.
Following this, our Champion wear-testers provide detailed 'in the wild' feedback. They range from elite to everyday athletes, all racking up varying degrees of mileage with different running gaits. They then feedback to us on cushioning, rebound, comfort, weight, support. feel, malleability - how it affects their bodies and their running.
 
With feedback taken into account, the
RUN
enters the manufacturing stage. The bio-based EVA and Pebax®  is nitro-infused at pellet level to create the highest propulsion and lowest density when hitting the ground and bouncing back. Moulded into a 9.5mm heel to toe drop and 20mm stack height the shoe's engineering stage is vital in achieving a cushioned, comfortable and responsive ride.
Our key focus during the entire process of mass production is to reduce our impact while achieving the highest performance possible. We use flat-knitting - a technique which wastes less material when creating the
RUN's
upper. The yarn used is also dope-dyed at pellet level to reduce water consumption.
 
At this point, there's a final, often unspoken, test before any product goes to market. It's as important as any material, any innovation, engineering or component property, any wear-test feedback. Arguably, more so. 
The Blind Test.
Learn more about what our Champions thought about the hylo RUN when seeing them for the first time.